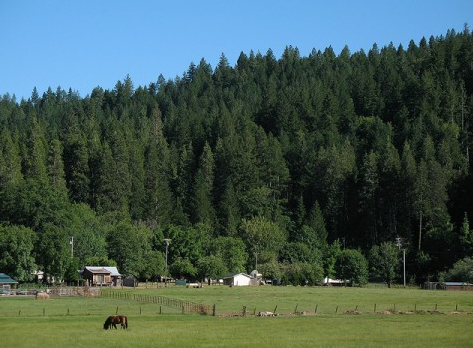 Middletown Scenic View
Middletown CA is located close to the southwestern-most border of Lake County, CA. It is the first town you come to when you drive up Mount St. Helena from Calistoga into Lake County. The beauty of the rolling hills and mountains, covered with oak, pine and other conifers, is a spectacle to behold.

Middletown was given its name because it is halfway between the town of Lower Lake to the north, and the city of Calistoga (in Napa County) to the south. The town is 1.8 square miles in size, all land, with a population of approximately 1,350. The first house in the area was built in 1870, and the town began in 1871.

Middletown CA real estate offers the relaxed, comfortable feel of small town America. It includes homes and acreage suitable for those desiring a simple and secluded circumstance, for those preferring a family or couple's circumstance in the heart of town, or for those wanting a large home on many acres, with land and provisions for horses, chickens and livestock.

#cta-communities#

Middletown has its own elementary, middle and high schools within close proximity to one another, making transportation easier for families with school age children. Shopping is plentiful for most needs, and for anything further, drive just 20 minutes to Calistoga, or a bit farther to Napa or Santa Rosa.

The Middletown area enjoys a modest tourist trade based primarily on Harbin Hot Springs, and the Twin Pine Casino & Hotel located on the local Rancheria south of the town. The Geysers, the largest complex of geothermal power plants in the world, is located in the mountains above Middletown, providing many jobs and strengthening the local economy.

#about-communities#

Homes for sale in Middletown CA provide a wonderful living circumstance for commuters, retirees, families, and anyone desiring to live in the country while still having ready access to the city.
See homes for sale in Middletown