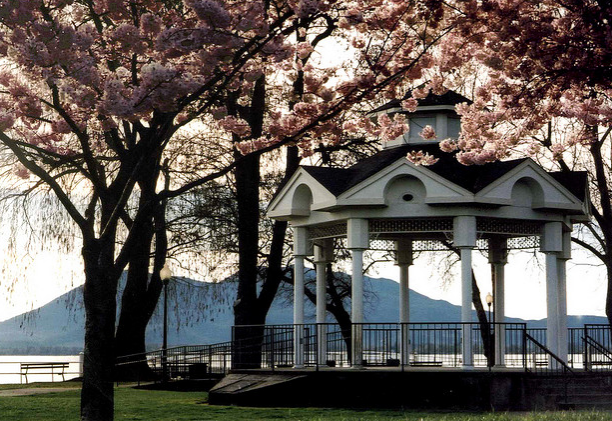 Gazebo by the Lake
With a population of approximately 4,700, and a main street (called, yes, Main Street) that is a classic example of small town America, the purchase of Lakeport CA real estate brings you into a cozy and friendly community. The town is 3.2 square miles in size, almost all land, some water.
Lakeport was first settled by Native Americans several thousand years ago. At the coming of the settlers, this area was the location of the main village of the Kabe-napos, a sub-tribe of the Pomo people.

#cta-communities#

The first business in Lakeport was established in 1855. The city was originally called Forbestown, named after one of the original businessmen and benefactors of the area. In 1861, the city's name was changed to Lakeport. As the county seat, Lakeport provides many legal, administrative, and clerical jobs within Lake County.

Acquisition of Lakeport CA real estate establishes you near to the water's edge of an enchanting section of the western Clear Lake shoreline, well-maintained with lawns, gazebos, picnic tables, docks, and magical views of the lake glistening in the sun, set against the backdrop of rolling hills, and massive Mt. Konocti farther south along the lake. The sunsets of Lake County are a panoramic display of swirling colors and textures like a beautiful painting, but real.

During the months of June, July, and August, Library Park in Lakeport is host to a variety of bands including jazz, blues, country, and pop. These Friday evening concerts are free to the public. Throughout the year residents and visitors enjoy performances by the accomplished Lake County Symphony at the newly renovated Soper-Reese Theatre on Main St.

#about-communities#

Lakeport maintains quality performing elementary, middle and high schools. The downtown business district offers a high percentage of small, privately owned shops of all kinds, in the setting of a historical, small town village. Given all that the city offers, homes for sale in Lakeport CA are an invitation to a deeply satisfying lifestyle for both you and your family.
See homes for Sale in Lake County